Check out Tower International's attractive stand on the prominent Moscow International Property Show
---
back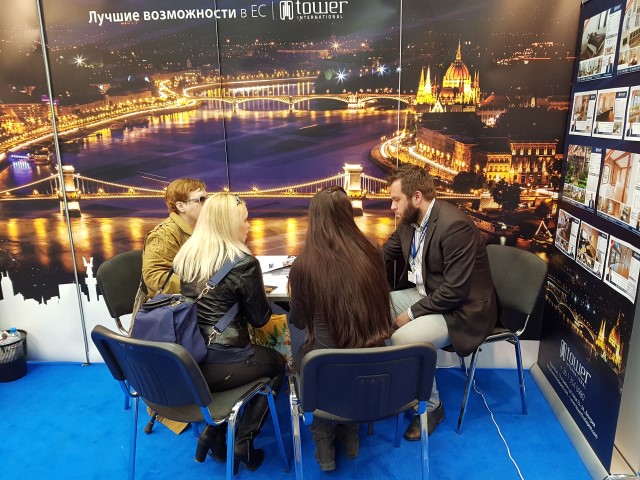 The 27th Moscow International Property Show which is established as the leading event in Russia for the overseas property market was held on 11-12 November 2016. The shows always have a high attendance since 2003, the year of launch. This year the event took place in the centrally located Tishinka exhibition centre as the premier event for the booming overseas property market in Russia.
Numerous Property Developers, International Real Estate Agents, Banks/ International Financial Advisers, Letting & Relocation Agents, National Tourist Boards, Regional Tourist Offices and Airlines promoted their services on the show. There were more than 100 exhibiting companies, mainly from Europe.
The Property Show attracted more than 5,000 visitors from all over the world. There were private clients as well as Russian real estate specialists among them. Visitors were especially looking for international property for personal enjoyment and for investment as well. This demand of apartments is one of the reasons why Tower International Ltd. from Hungary attended the exhibition. Another factor is that Russians are keeping many overseas markets alive and are buying heavily in Europe.
Most of the exhibitors highlighted that the participation in such a prestigious show means a good publicity and some of them explained that they recognize a lot of prospective buyers and after the show they experience a substantial boost of customers.
Kim Waddoup CEO at aiGroup, organisers of the exhibition explained. 'While many developers take part in shows all over the world, promoting real estate in Russia is a totally different experience. It requires careful planning as investors here are spending, but with caution. They like to get to know a company first before handing over any funds.' The conclusion was drawn by the Hungarian international property participants: Russian older generation is very interested in buying properties in Hungary -particularly Budapest-, so within a few years they will make the decision to buy a property.
(Source: http://www.internationalproperty.ru/)