Property Management
Profit from Your Budapest Property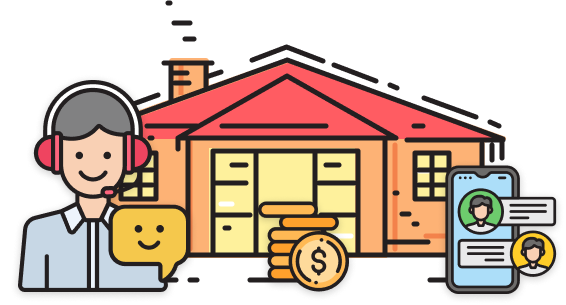 Living far from your property investment, you need a trustworthy local partner who looks after the value of your property, makes sure you can reach the highest return on your investment and let you know about all important information. Choosing the right property management firm in Budapest, Hungary, is a big decision.

Discover our property management services!
Get in TouchRead More
Tailor-made Solutions
Choose what Best Describes Your Needs

Home Management
Budapest is a beautiful city attracting yearly millions of tourists and thousands of foreign students from all over the world.
But the Hungarian capital is also home of tens of thousands of expats and an affordable option to own a holiday apartment or a second home for the retirement years.
We are managing the properties of foreign landlords living in Budapest periodically but need help in looking after the bills, keeping the contact with the house representative, checking the mailbox, or arranging repairs.
Is this what you are looking for?
Yes, Give Me an Offer

Rental Management
Do you own a property in Budapest and wish to rent it out? Do you need a local partner to find tenants and manage everything all along the lease?
Tower is a partner of hundreds of foreign and local real estate investors. We are the point of contact for tenants, utility companies and house representatives.
We manage maintenance issues, bad tenant issues and inform the property owners about every important up-date about their properties.
We are ready to take over the hassle of the daily tasks of your apartment!
Get Started

Portfolio Management
Tower's experts are operating the portfolio of landlords possessing more properties in Budapest. We are prepared to help in finding the best business model for each of your real estate and make them working.
Would it be better to remodel one of the apartments? No problem! Our interior designer and renovation team is ready to do the job. One of your properties does not perform as you expected? Sell it and buy a yielding property with sitting tenants and rental tack-record.
Tower is your partner in getting the most out of your Budapest real estate investment! We are happy to put together a tailormade offer for you!
Sign Up
Switch to Tower
Sometimes the biggest obstacle to a working investment is an unprofessional property manager. Improper pricing, vacancy for months, mismanagement of bad tenant-, utility- or insurance issues: just a few examples of the typical problems reducing your yield.
Lack of communication, not transparent finances: situations you don't have to bear for years
Do you need a new property manager instead of the current one? Switch to Tower today!
Switch Today
Discover our SPECIAL OFFER for new clients!
Sign up for one of our property management packages and enjoy the benefits of the service free of charge for the first 3 months!
Sounds good?
*Terms and conditions apply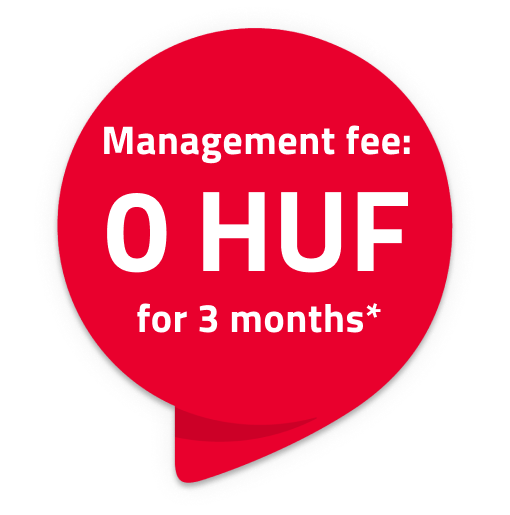 Check out the 3 key elements of our property management service:
Your investment in steady hands
Wealth Protection
Tower International will make sure your Hungarian property is well maintained and protected.
Get Started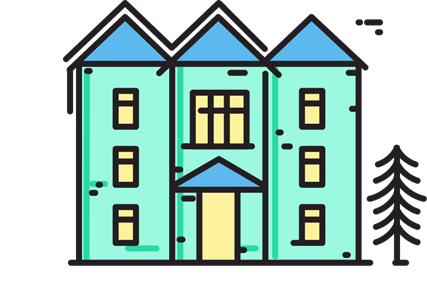 Insurance. When letting out an apartment, it is important that the property contents are insured and that you are covered against fire, robbery, and public liability. Tower's professional in-house broker is qualified to find the best insurance solution for your property in Budapest.
Tenant Screening. All prospective tenants are personally met and cross-checked before signing the contract. Personal identity documents, proof of employment, or bank account statements are always required from tenants by your property manager.
Regular Inspections. We will keep an eye on your Budapest property - Whether your property is rented or vacant, regular inspections are carried out, checklists are monitored and follow-up home management activities are completed to insure your property stays in good shape.
Eviction of Non-Paying Tenant. In case of non-payment or breach of the Lease Agreement, Tower's property management team will represent your interests. Payment notices will be delivered and if necessary, eviction is handled with the assistance of our legal partners.
Accounting Services. If your tax is not up-to-date, you are in danger of being fined by the tax authorities. Beside reliable property managers, Tower employs in-house chartered accountants to optimize taxation.
Get Started
Your investment matters
Yield
Let Tower make your investment work for you whether it is a small studio in downtown Budapest or a mansion on the hills of Buda.
Get Started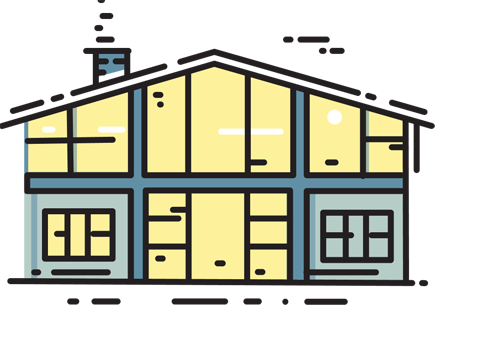 Rental Department. Tower's in-house lettings division rents out close to 40 properties every month. This team consists of 5 Letting Agents, an Administrator, and a well-experienced Lettings Manager. Our lettings team constantly cooperate with your dedicated property manager to minimize the vacant period.
Bank Transfers. As part of our real estate management service, a professional team of dedicated finance account managers deals with our clients' accounts and fund management. After paying the utility and common cost bills, funds are transferred to Landlords every month.
Occupancy. With the help of Tower diverse marketing activities, our in-house and external letting agents have been able to achieve a 98% occupancy ratio in our managed stock.
Cash collection. All Tower tenants pay the rent by bank transfers or depositing the money at the bank. A dedicated member of our home management staff is responsible for rental collections.
Marketing. Tower uses a range of both online and offline marketing tools. We have dedicated rental websites, we use the largest local property portals, and we manage a network of universities, partner agencies, and corporate contacts.
Get Started
Talk to us
Communication
Tower has always put an emphasis on regular communication with Landlords. Besides being available through e-mail and phone, our staff regularly travels to our Landlord's countries.
Get Started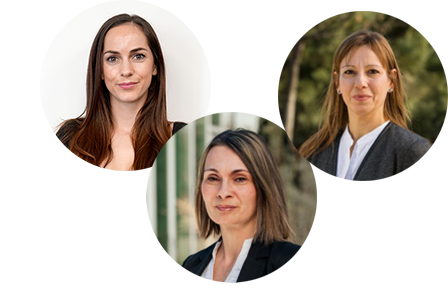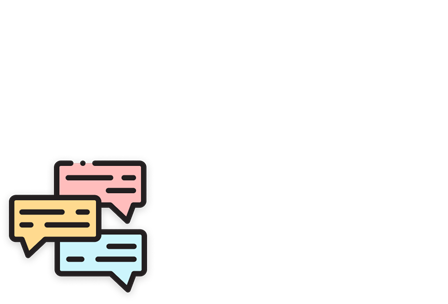 Account Management: At Tower, you will be in contact with one person, your dedicated Client Account Manager who is always up-to-date with the state of your investment.
Tower 365: Through Tower's unique apartment management login system you will get 24/7 access to your Budapest property. See financial transactions, up-to-date property management activity notes, your tax returns, your property details, and more.
Get Started
Online access
Tower 365
Your always up-to-date, everywhere accessible Property Management companion. Check your balance, see ongoing tasks, current tenant contracts, property market news, and much more.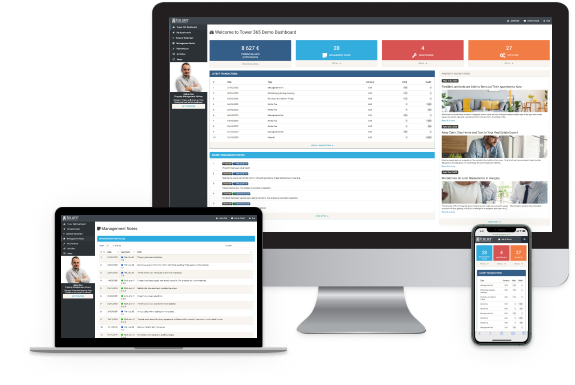 Try the Demo
Not sure whether you really need a property manager?
Test Yourself on our Interactive "Map"!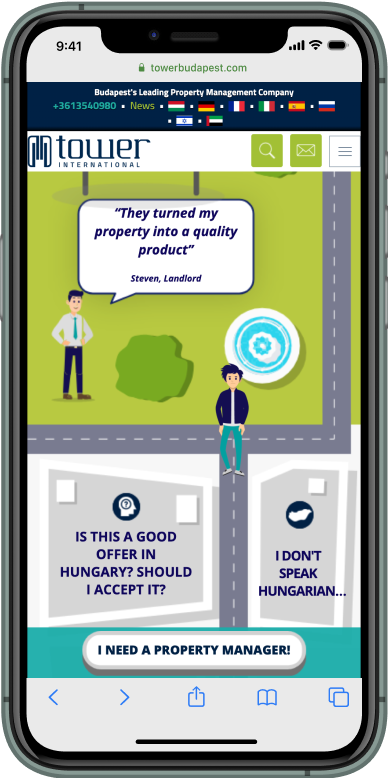 Take the Tour
Ready to get started?
Get in touch today and receive your tailor-made package of property services and personalized offer from Tower.
Sign up for a Quick Consultation
Our Clients Said
Testimonials
"I could not be happier with service, attention, speed of response, friendliness, professionalism and overall care provided by Tower. They managed our apartment for a total of 4 years. The account manager has been outstanding in the level of support provided, year after year. I would highly recommend Tower. Thank you!!"
"I've been supported by Tower for over 12 years now and over the last 8 years or more have had a really good service. I know I can rely on them to help me and to go above and beyond the call of duty. My properties are safe in their hands and given I live outside Hungary this is a good feeling."
"Everything was taken care pretty gently and, well, professionally by Tower Budapest."
"For the past years, I have been working with Tower International to manage my property in Hungary. All that time, I had the feeling my property was in safe hands. I appreciate the fast reply whenever a problem occurred. The people in charge are professional, strict and sometimes went out of their way to get things fixed as soon as possible."
"Very competent and professional service at all times. Thoroughly reliable and comprehensive with an enormous amount of experience. Fully recommended for anyone wishing to find a top class Property Management Professional."
"The team continue to amaze me with their level of efficiency. Since I bought 2 apartments with them in recent years the sales team was excellent, then the rental team who secure great tenant with excellent rent. TOWER also manage those 2 apartments and once again the efficiency and speed of service of the Property Manager I can applaude. Truly Tower has a dedicated team which level of efficiency is not easy to find anywhere in the world. Thank you to all of them for this excellent Management."
"They have really helped me find a place that I can call home for the next few years of my life."
"Excellent and professional service! One-stop shop for property management. Five star*****."
"Tower-Investments has the fastest response and the deal went really easily."
+Investments Advisory
Need help to get your investment straight? If You have multiple properties in Budapest and want to maximize your return - you are in good company.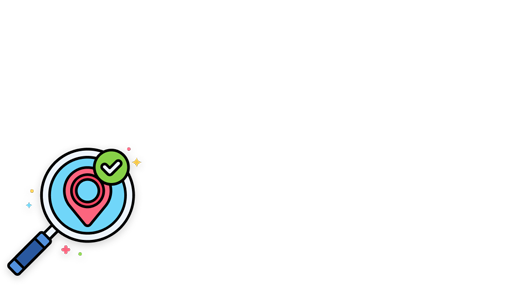 Tower is the Leading Property Management Company with over 800 managed assets
We have over 100+ experienced staff members from finance and customer care to property consultants and assistants
We are ready for Your portfolio - no matter how big or small it is
Sign up for a Quick Consultation
Discover Our one-stop-shop solutions for Your Budapest Real Estate Needs
Property Services
We have experienced in-house staff for every possibility. Choose a service to find out more.
Our Offices
Come on in to one of our 2 locations
Sign up for a Quick Consultation
Start with Tower
Get in touch now to receive your offer today!
Get in touch now
and we'll contact you within 24 hours!