Hungarian Border Closure: Who Can Still Enter the Country and How?
---
back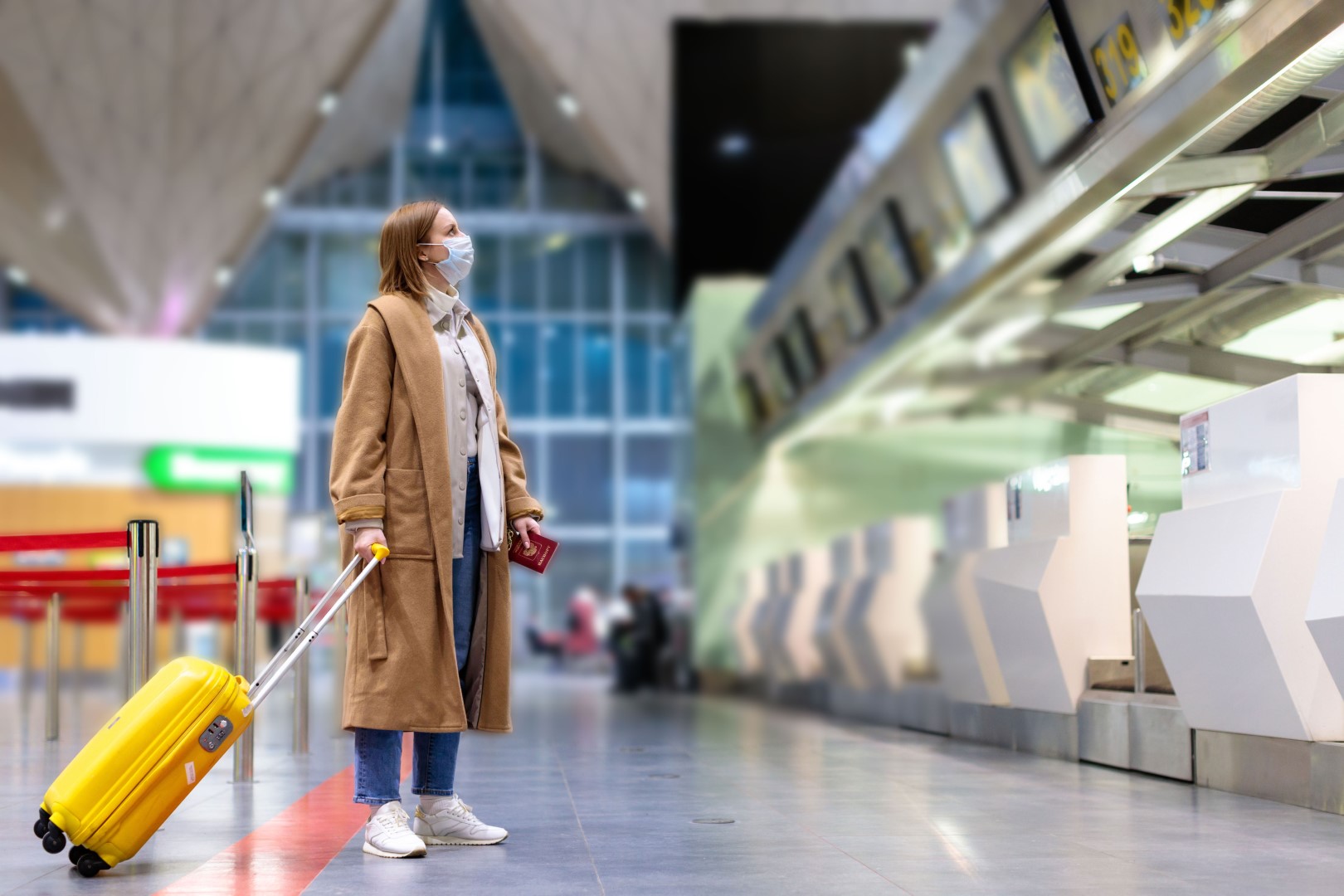 Good news: you can still get entry to Hungary if you are planning a business travel from the EU, the European Economic Area and many more countries. You only need documents that verify the purpose of your travel. Let us guide you with the latest news and all the necessary steps.
UPDATED: 30.07.2021.
Planning to set up a business in Hungary? Would you like to buy or sell a property in Budapest? Do you need an apartment during your studies in Hungary? Moving to Hungary as an Expat working for a company in Budapest?
Borders are officially closed, however, you may get the green light on arrival, but you need to make some important preparation in advance.
The Hungarian government has recently announced a relief for entry to Hungary. You can enter without restriction (no quarantine) if you have been vaccinated against COVID-19, and you have an Immunity Certificate recognized by Hungary.
The following countries have reached a bilateral agreement on mutual recognition of COVID-19 immunity certificates:
1. Republic of Albania,
2. Kingdom of Bahrain,
3. Republic of Cyprus,
4. Czech Republic,
5. Republic of North Macedonia,
6. Georgia,
7. Republic of Croatia,
8. Republic of Kazakhstan,
9. Kingdom of Morocco,
10. Republic of Moldova,
11. Mongolia,
12. Montenegro,
13. Republic of San Marino,
14. Republic of Serbia,
15. Slovak Republic,
16. Republic of Slovenia,
17. Republic of Turkey,
18. Ukraine,
19. Republic of Uzbekistan.
There are plenty of special regulations for specific groups of people and circumstances, but in this article, we focus on two frequent options:
OPTION 1: Business travel
Based on Government Regulation 4/2021. (III. 1.) if your travel has business or economic purposes and you can certify it upon entry, you can proceed without restriction.
First of all, you need to receive an invitation letter or certificate from the Hungarian firm you are in contact with. It must be an original document printed, stamped, and with official firm signature - so you need to ask to have it via postal mail. Your best option is to use the Hungarian Police's own template to make the inspection smoother.
Just ask your point-of-contact at Tower to have it prepared for you.
(If you already possess a company in Hungary, it is good to have the original company statement with you in addition.)
The certificate must be shown to the officials at the border control upon entry. You can expect a temperature check, but quarantine is not mandatory in this case. However, please make sure you are healthy since this is our No. 1 priority. In case the officials experience the typical signs of coronavirus on you, your entry will be rejected.
Summarized:
Step 1 - Get an Invitation Letter or Certificate from a Hungarian Firm
Step 2 - Show the Document upon Entry
Step 3 - Make Sure You are Healthy


You do not need Fairness request, you only need the official verification documents, if you want to have a business travel in Hungary from:
1. EU Member States
2. the EEA States and Iceland, Liechtenstein, Norway and Switzerland
3. EU candidate countries (ie Albania, Montenegro, Northern Macedonia, Serbia, Turkey)
4. The United Kingdom
5. the States as defined in the Ministerial Decree, which are currently: Azerbaijan, Bahrain, United Arab Emirates, United States of America, Republic of India, Republic of Indonesia, State of Israel, Japan, Kazakhstan, People's Republic of China, Kyrgyzstan, Republic of Korea, Russian Federation, Singapore, Republic of Turkey, Ukraine, Uzbekistan and Georgia.
If you come from another country for business purposes, you must submit a Fairness request. You can find the process of that in "Option 2" below.
Important: If a family member also wants to accompany you on the trip, unfortunately, it is subject to the stricter regulations below (described in Option 2) and a separate request for fairness must be completed for her/him on the Hungarian Police's website. You can find our guide below to fill it out.


OPTION 2: Students (and other exceptions)
Another frequent scenario is if you are studying or taking an exam in Hungary. In this case, regulations are stricter: you need to get permission in advance of traveling for a successful entry and quarantine is mandatory.
Let's see the necessary steps:
Step 1 - Get a Certificate from the University
Step 2 - Fill in the Online form of the Police and Upload the Certificate (See below)
Step 3 - Wait for the Confirmation
Step 4 - Expect 10 days of quarantine or arrange two tests


If you are not a student, there are few other situations you can request permission, in advance of your traveling, such as court proceedings; accessing healthcare with a referral; for cargo-related transit; participation in family events /marriage, baptism, funeral/; caring of a relative; participation in a sporting, cultural, or church event; or any other justifiable reason. (You can read more about all of the specific regulations and exceptions on the official site of the Hungarian Police here.)


How to use the online form?
(Important: You don't need to use this in case of business travel.)
First of all, follow this link.
(Unfortunately, not everything is translated, so we prepared a quick guide for you.)
At Stage 1 (Type of administration), you need to choose the last option, which means "request for fairness for entry at the state border":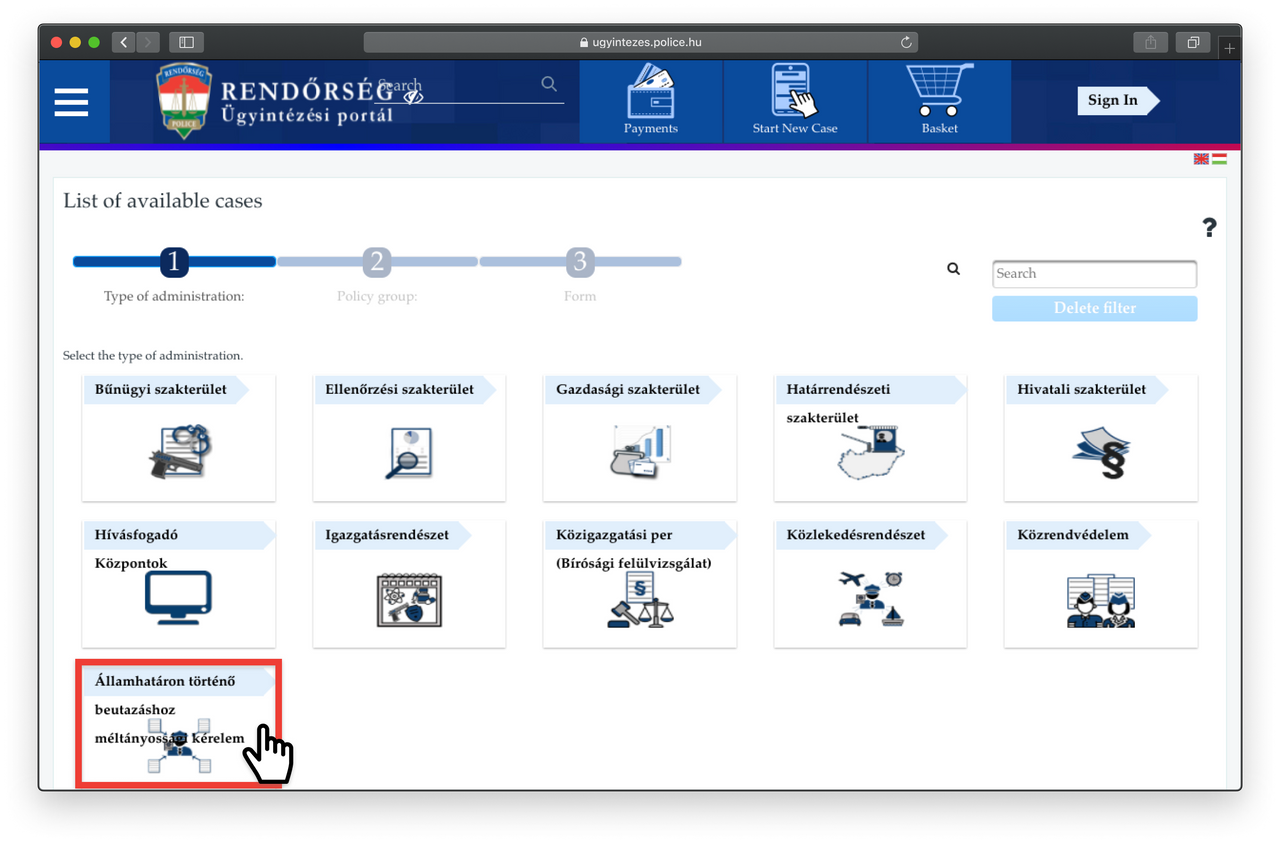 At Stage 2 (Policy group) choose the same option again: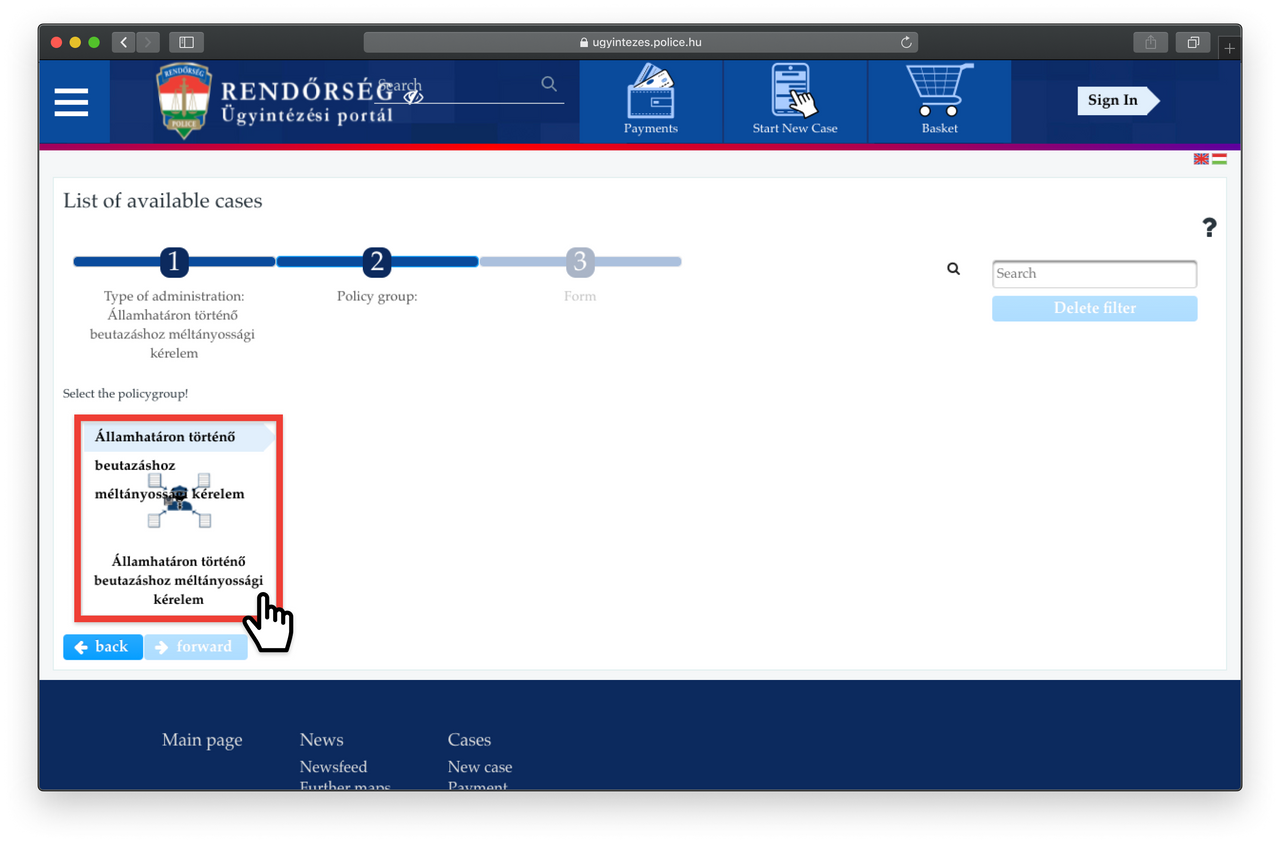 At Stage 3 (Form), you will likely choose "COVID-02", but here are the translations for all of the options:
COVID-01: Fairness request for entry (for customers with gateway registration);
COVID-02: Fairness request for entry (without login);
COVID-03: An Appeal in the subject of entry request (for customers with gateway registration);
COVID-04: An Appeal in the subject of entry request (without login).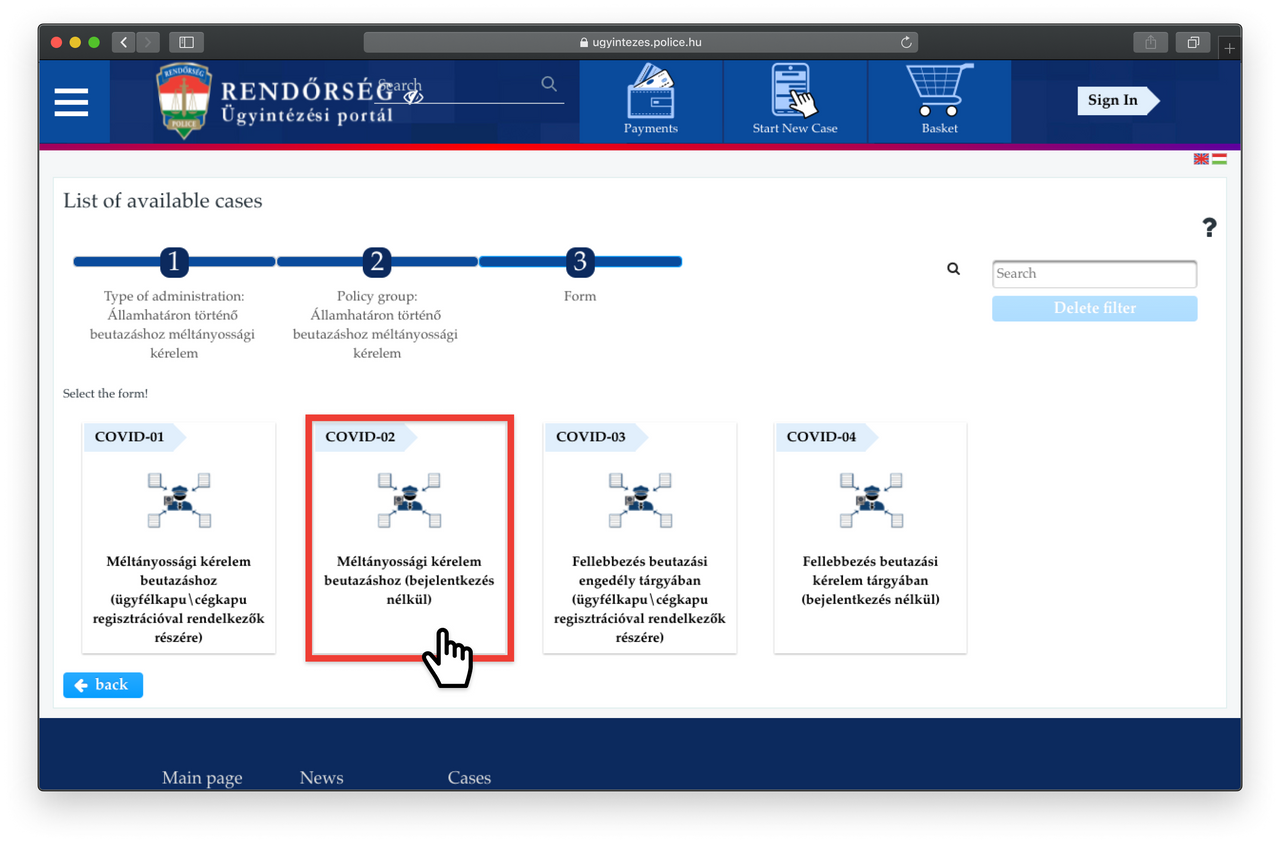 Than you have to go forward, clicking "digital":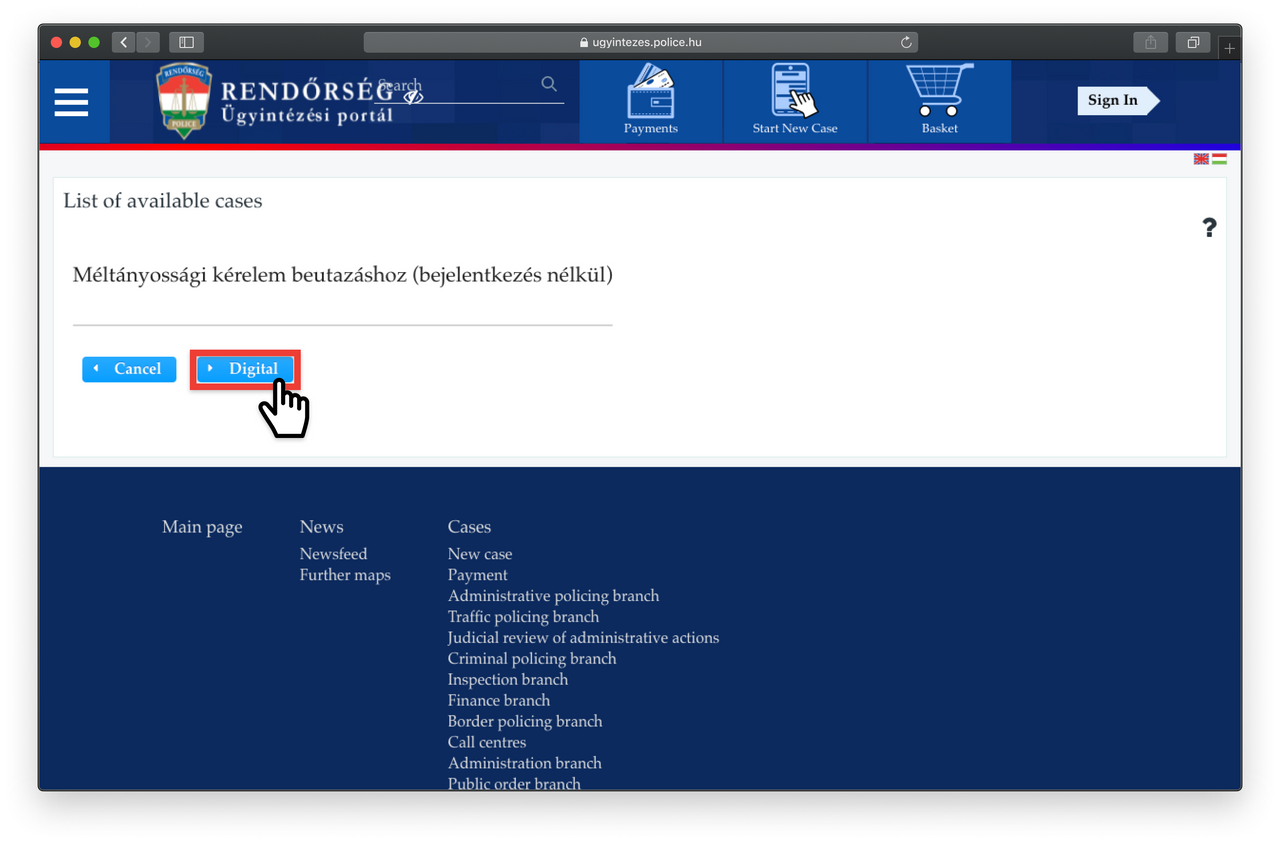 You have a captcha to pass: just fill out the empty field (1) and proceed with "I'm not a robot' (2):
Now you can start to fill out the application form and send it right away: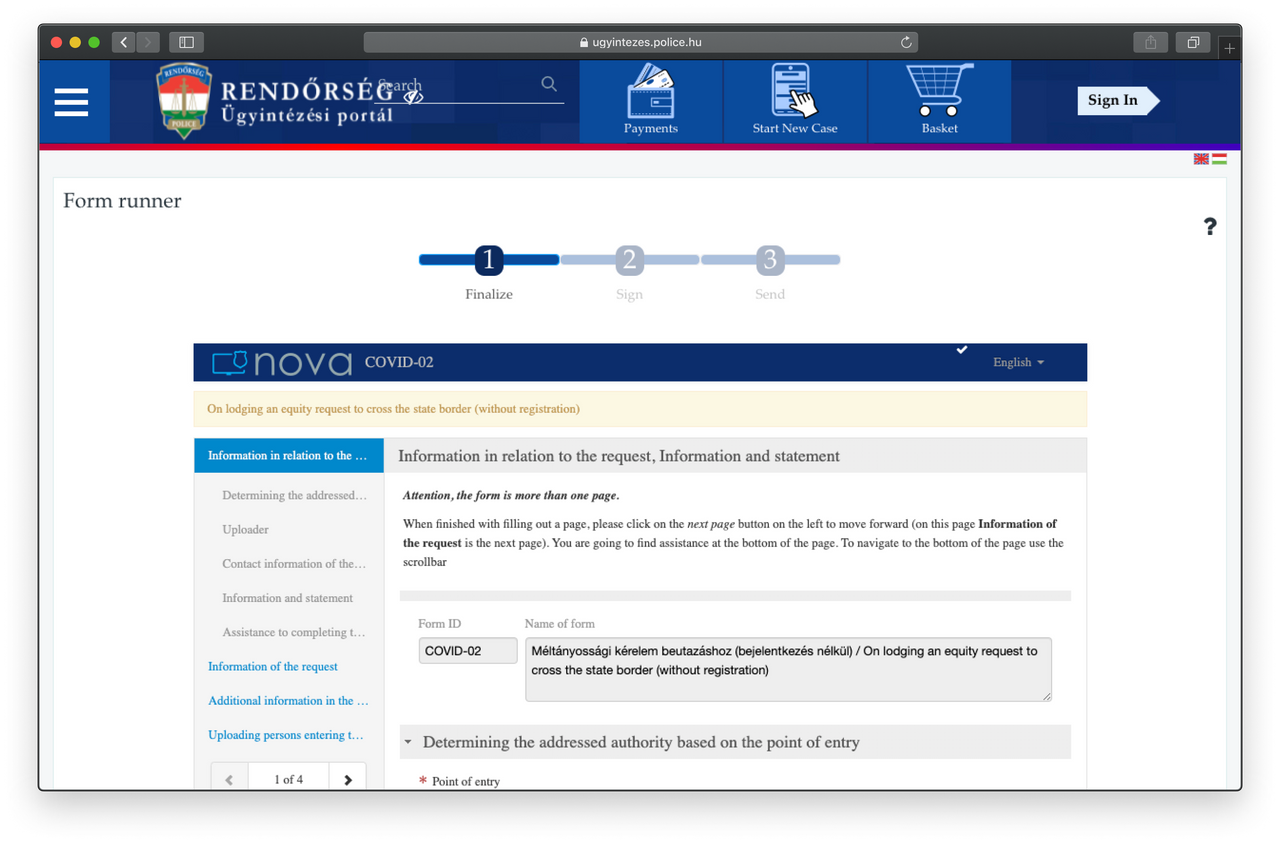 You will receive the confirmation email as soon as possible, allowing you to start the preparation for the travel.
The next question is, what will happen at your arrival in Hungary?


Testing and screening
When you're entering Hungary, expect a temperature check on arrival. Be prepared that all foreign nationals will be denied entry if they show the typical signs of coronavirus.
If you are not on a business trip, by entering Hungary, you need to agree to enter 10 days mandatory quarantine - by default - at home. In case you do not have a place of residence in the whole country, the quarantine at a government-designated location will be obligatory for you. You should take it seriously because quarantine is legally enforceable, and if you break the rules, fines could be levied.
IMPORTANT: Always check the latest rules on quarantine before departure.


How to minimize quarantine
So what to do if you would like to avoid the mandatory quarantine period? In that case, you need to show up 2 negative biologic test results. The Covid-19 tests should be taken within the five days preceding entry, but at least 48 hours apart.
Regarding this, the Hungarian government has made some mitigation. From 4 September one of the two PCR tests is recognized as equivalent to the domestic test if performed in a Schengen member state.
By the way, you need to prepare for self-funding the tests and apply them at the local environmental health office for permission. This can be important to finish quarantine as early as possible.


Summary
Although the Hungarian borders are closed due to the Covid-19 pandemic situation, there are several circumstances you still can be eligible to enter the country. Students must prepare in advance and fill the application form by using the online portal. If the goal of your trip is, for instance, buying or selling real estate in Budapest you have to request an invitation letter or certificate from a Hungarian company. As the current situation is a momentary status, it is highly recommended to follow the upcoming changes.


We are happy to help our clients who need assistance in the procedure!