The Budapest Advent Fair is Amongst the TOP 10 of Europe
---
back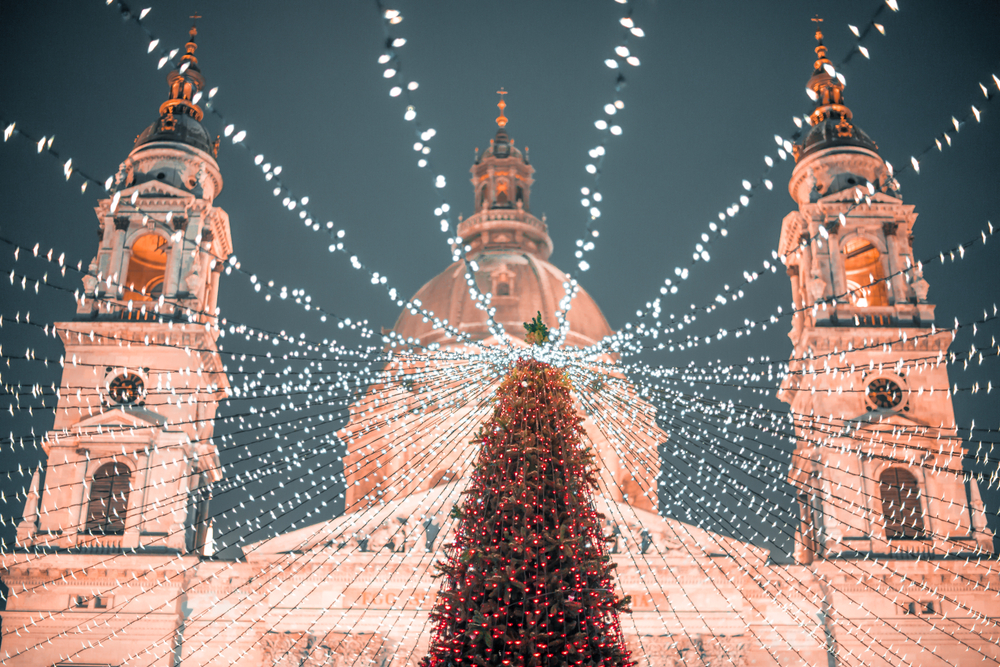 In recent years, the Hungarian capital have become increasingly popular amongst tourists. In the winter season, the Christmas Market on Vörösmarty Square contributes to this. Just like last year, this year it was also included in the top 10 most popular fairs along with fairs in several other European cities, according to The Independent.
Budapest, Hungary
This fairy tale city turns into a Christmas wonderland in winter. Budapest is one of the most popular Advent Fair venues in Europe today. It is open from November 8th until the New Year and runs from Vörösmarty Square to St. Stephen's Basilica. Deák Ferenc Square and Fővám Square also join the fun, with smaller fairs being held here, but the mood has increased just as much. At the Basilica, a skating rink, and at Deák Ferenc square a huge ferris wheel awaits its visitors. Hungary has many distinctive and delicious food, sweets, and drinks that are partly enojed by the locals in the winter, including mulled wine and chimney cake (kürtőskalács). In addition to food specialties, of course, you can also buy handmade gifts and clothing. The fair runs from 8 November to 1 January.
Zagreb, Croatia
In Zagreb, a six-week Advent fun begins in the pre-Christmas period with more than a dozen fairs around the city. They place much more emphasis on festive meals, and most of the stalls serve a variety of delicacies, and to a lesser extent souvenirs, clothes and toys. When you're done shopping, you can slide a few laps down the skating rink at Ledeni Park. The fair runs from 30 November to 7 January.
Lille, France
During the winter, the town of Lille in northern France is brought to life. A huge ferris wheel is set up on Rihour Square, with almost the entire city visible from the top. Booths are all around where you can try the original Belgian waffle, Dutch mini pancake or even a giant crépe with Belgian chocolate sauce. Besides sweets, of course, they also have cheese delicacies, french fries, toys and gifts. The fair runs from 22 November to 29 December.
Berlin, Germany
More than 70 Christmas markets are held in Berlin and its' suburbs. The largest of these is located in the Old Town of Spandau, spiced with historic buildings and traditions. At Alexanderplatz you will find a blend of modern and traditional culture, where a mid-market fair welcomes us with a ferris wheel. The fair is open from 25 November to 29 December.
Vienna, Austria
Vienna ranks first on this list every year thanks to its famous Advent Trade Fair. If you are looking for a truly traditional experience, you should definitely visit the surrounding of Schönbrunn Palace. After warming ourselves up with a glass of hot punch and tasting many special delicacies, we can show off our talent on the skating rink at Rathaus. The fair is held between 15 November and 6 January.
Bruges, Belgium
This year, Bruges put the emphasis on environmental issues and replaced the usual ice rink at the base of the belfry with an artificial, environmentally friendly solution. At Markt you can find artisanal dishes and food. The fair is open from 22 November to 5 January.
Copenhagen, Denmark
Tivoli Gardens is a noteworthy place and will become even more inviting during the Christmas market. In addition to tasting special foods and drinks, you can try the ice rink here, and if we visit on 13 December, we can catch the Santa Lucia floating parade of light-festooned kayaks on the canals. The fair is open from 16 November to 5 January.
Basel, Switzerland
Basel is tiny, but still full of life. The fair consists of 160 stalls from Münsterplatz to Barfüsserplatz. Here you can try the world famous raclette and the local sausage selection. There is also street food on the banks of the river. The fair is open from 28 November to 23 December.
Strasbourg, France
Every winter, this beautiful town gives home to a cozy Christmas market. There is a multitude of Christmas decorations in front of the cathedral, and the Place Broglie has many food and drinks stalls. Strasbourg also hosts the so-called OFF market, where we can buy second hand goods. The fair is open from 22 November to 30 December.
Birmingham, United Kingdom
The Christmas Market in Birmingham is, in fact, reviving German customs, being the largest German fair outside Germany. Apart from schnitzel, traditional crunchy sausages await visitors. The fair is open from 7 November to 13 December.
Source: