Unique, Multifunctional Sport Centre in the Heart of Budapest!
---
back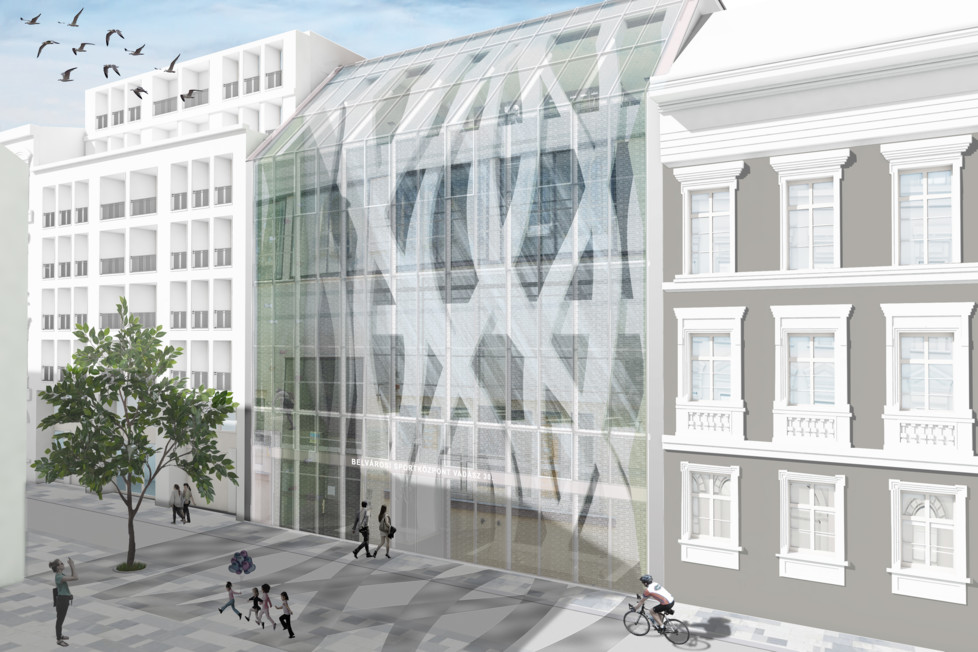 You can swim or climb walls as well as attend cultural events soon at the sport centre in the downtown of Budapest. György Skardelli is responsible for the design of the project. The well-known architect has a reputation for designing several important building in the capital; the most famous one is the Ferenc Puskás Stadium.
The new sport complex investment is in the vicinity of Szabadság Square, at 30 Vadász Street. György Skardelli presented his plans according to which there will be a spacious swimming-pool under the ground floor, above it a wellness-complex, a gymnasium, a basketball court, a climbing course and in the attic a fitness room and a terrace are planned in the 4-storey building.
A unique investment in the City
The site in Vadász Street is only 650 sqm, so there will be almost 3800 sqm built at the top of it. Dr. József Finta, a famous Hungarian architect said that opening attics for the people can be the only solution for the downtown of Budapest to gain more green areas closer to nature. For this reason he welcomed the plans of the sport centre in the heart of the Hungarian capital.
Light courtyard with elements of waving glass and metal
"The speciality of the building is the double facade. The metal-glass structure expanded ont he real street front provides appropriate stiffness corresponding the seismic design requirements and on the other hand, it also creates a light courtyard covering the full highness of the building. Natural light can reach the space from the basement to the attic in the 9,2 m high building which was very dark originally. The double facade favours the energy efficiency of the house, insulates noise and visitors can climb walls of more storeys. The shortness of the modern building called Üvegház (Glass House in English) designed by Lajos Kozma on the opposite side of the street lets a wonderful view to the city and the designer tried to make the most of this opportunity", - welovebudapest.com gave an insight into the most interesting architectural elements of the project.
Apart from the recreational and sport activities cultural events will also take place in the Downtown Sport Centre – informed the stakeholders at the press conference. Energy efficiency was an important factor when designing the centre such as accessibility requirements paying attention to the disabled.
Source: http://www.origo.hu/itthon/20170512-sportkozpont-epul-a-belvarosban.html
Photos: https://welovebudapest.com/budapest.nevezetessegei/belvarosi.sportkozpont.nyilik.a.vadasz.utcaban